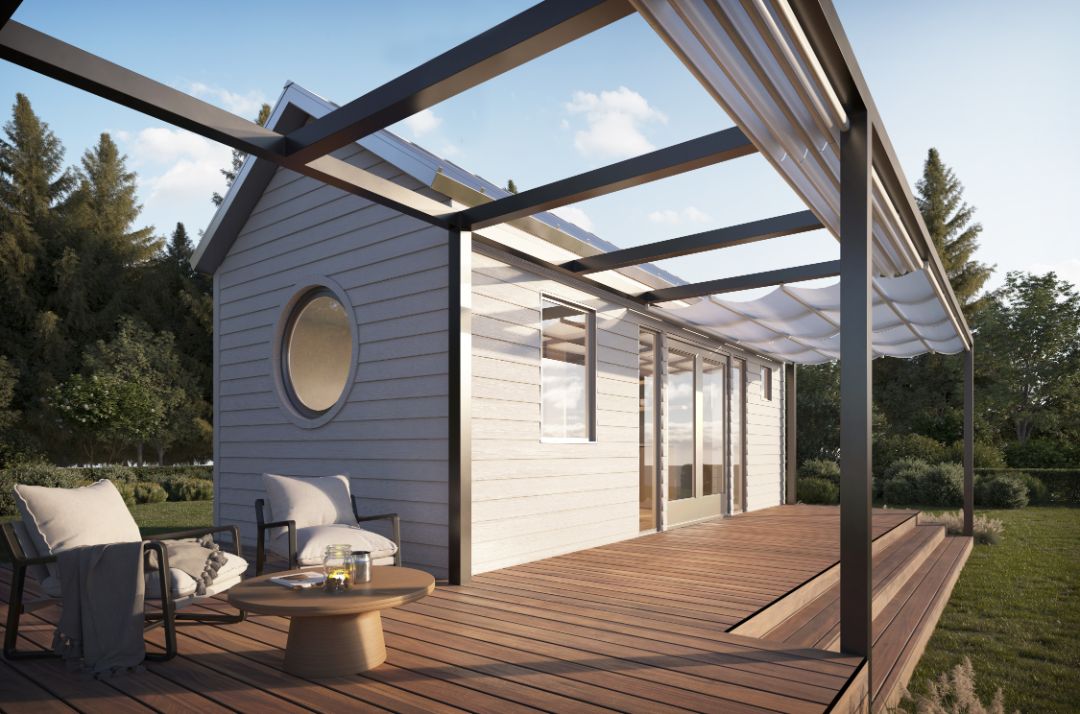 GORGEOUS SOL HAUS PREFAB MODULAR 
Turn key solution and move-in ready from the factory!


Built as a prefab modular unit and shipped to the building site.

Placed on a permanent foundation and hooked up to utilities on site

This tiny house is LEGAL and certified with the State of California for permit processing.

Price includes cabinetry, plumbing fixtures, appliances and lighting

Use as an ADU, primary dwelling, office space or guesthouse

Total construction time is 3 months!
REVOLUTIONIZING THE WAY WE BUILD & LIVE 
Factory built modular units are permitted with State of Californiia (HCD – California Housing & Community Development).


Built in the factory, there is less construction waste and not subject to weather constraints (more efficient building)

Site preparation (ie: building foundation) can be done simultaneously during the construction in factory.

Construction and permitting can be completed in 3 months

Built on a permanent foundation this tiny house is LEGAL as an ADU or primary dwelling
FIRE RESISTANT & ECO-CONSCIOUS
Resilient to wildfire, earthquake, extreme weather patterns due to climate change.
As fires become the new normal in California (and beyond), this building uses fire-resistant materials such as a standing seam metal roof and cement board panel siding.
With a tiny footprint of less than 300sf, this prefab minimizes natural resources, reduces construction waste, and good for your pocketbook! Utility cost is a fraction of a standard size home.
By using high quality materials that are non-toxic (no formaldehyde or off-gassing), this prefab provides healthy interior living for chemically sensitive people.
MODULAR, PRE-FAB BUILT IN THE FACTORY
SOL HAUS DESIGN is collaborating with a reputable factory builder for the modular units.
Quality building. Less waste. Energy efficient. Minimal impact on the Earth.
Factory building minimizes construction waste and increases efficiency, compared to traditional "stick-built" construction.
The controlled environment allows for building without the challenges of weather.
Prefab modular unit starts at $120K which includes finishes, cabinetry, appliances, plumbing, and lighting fixtures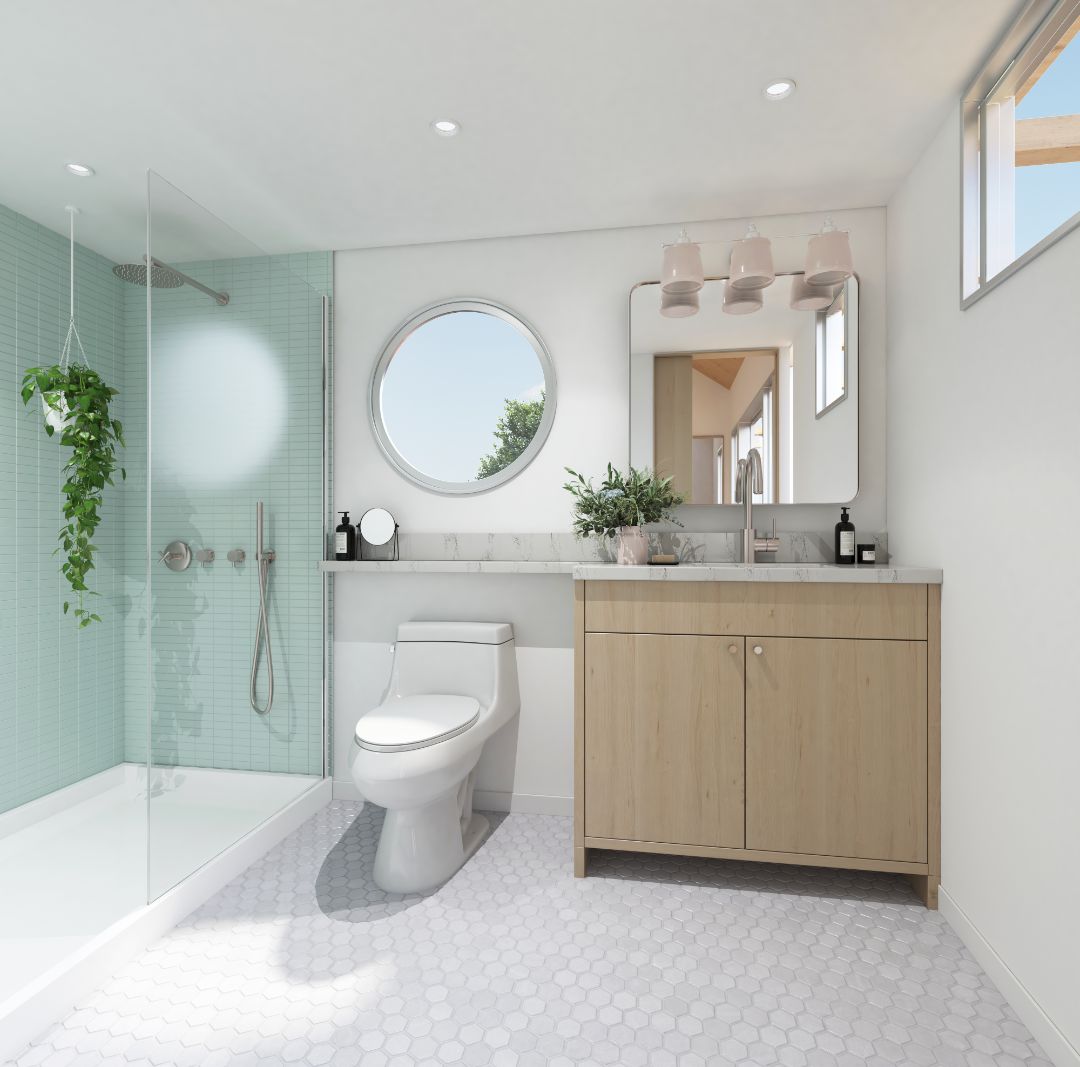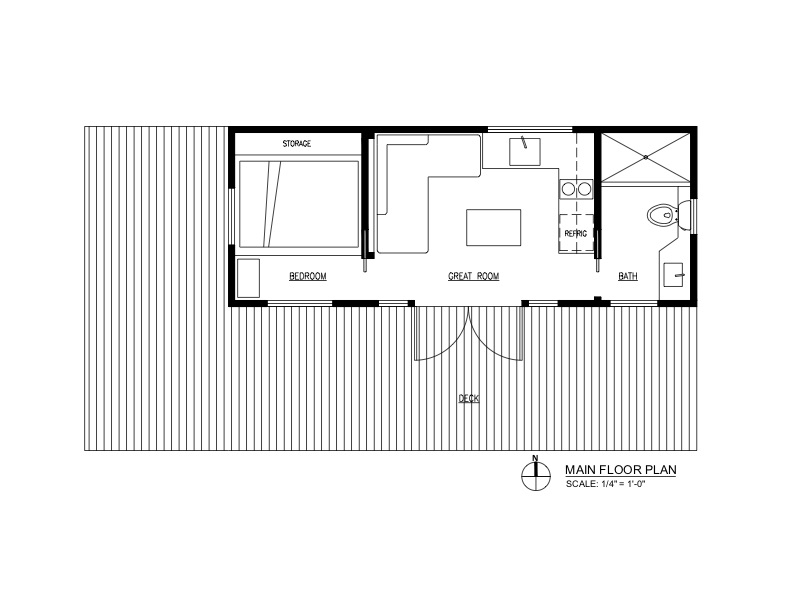 SPECIFICATIONS
Each pre-fab module is 10′ x 26′ (260sf)
FRAMING: 2×4 walls with steel frame at corners and infill with wood studs
WINDOW/ DOORS: Milgard vinyl, dual paned, low-E
SIDING: durable Hardie panel siding; fire-resistant for high fire hazard zones
ROOF: Galvalume standing seam metal roof; fire-resistant for high fire hazard zones
HEATING/COOLONG: Mini-split ductless heating
CABINETS: Formaldehyde-free, no off-gasing in finishes or millwork
COUNTERTOP: Solid surface countertop
APPLIANCES: Energy star appliances: washer/dryer, refrigerator, stove
HEALTHY INTERIOR FINISHES: No VOC or formaldehyde in paints or sealants
PLUMBING: Water conserving fixtures: toilets, faucets, showerheads (Energy Star rated)
FLOOR: Hardwood floor or high quality linoleum
WATER HEATER: Tankless hot water heater
Interested in the Tiny House Pre-fab?

Sol Haus Design is committed to beautiful, human-centered design where quality of living is accessible to all.
2019 SOL HAUS DESIGN | ALL RIGHTS RESERVED